Roaster's Block | Kansas City, MO
Urban Living at its finest featuring a Streetside Pool and Green Standards
O'Reilly Development led a historic redevelopment in the Garment District of Downtown Kansas City with the June 2013 acquisition of the historic Folgers Coffee Company factory. The purchase consisted of two separate buildings and an adjoining open parking lot. Folgers Coffee Company previously occupied and owned the buildings but vacated in 2012. The project utilized federal and state historic credits associ­ated with the historic preservation and adaptive reuse plans for the buildings.
Plans resulted in redeveloping the prop­erty into Class A market rate rental loft-style apartments with a mix of studio, one-, two- and 3-bedroom units with great views. The project provided the best of market rate amenities featuring where once an old, non-historic mechanical tower was razed and replaced with a courtyard created between the two buildings with a swimming pool, barbecue grills and landscaping.
STATS
146 total units
The Boss: 56 units
Swofford: 90 units
$35 million project cost
The Boss: North building built in 1917 | 79,520 sq. feet
Swofford: South building built in 1899 | 137,640 sq. feet
June 2013 Acquisition
Summer 2014 Construction Begins
Early 2016 Completion
CONTACT ROASTER'S BLOCK
Phone | 816-912-0502
Website | Roaster's Block
Managed By | O'Reilly Management Services, LLC
SEE ROASTER'S BLOCK PROGRESS ONLINE!
The current view is the soon to be courtyard branded as "Streetside" featuring a pool and streetscape. The wrecking ball completed demolition of the grain elevator and silo in January 2015.
Roaster's Block (Kansas City, MO)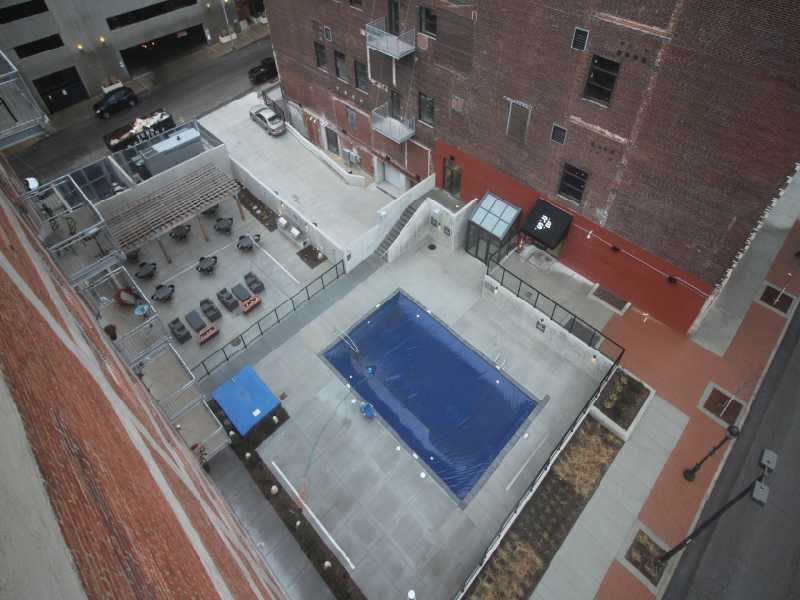 Utilizing OxBlue technology, our team and partners monitor its progress online. Visitors can view images from a camera onsite to see the development as it begins to take shape.
To view the construction time-lapse camera, click here.